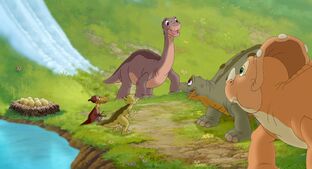 "
Today's The Day
" is a song from
The Land Before Time XIV: Journey of the Brave
.
Lyrics
Hey hey hey, today's the day
My dad's coming home from far away
We'll race and we'll run and we'll laugh and play
I feel so happy that I've got to say
Hey hey hey, today is the day
Yep yep yep, the time is near
Our brothers and sisters will soon be here
I will teach them to swim and to be your friend
You will teach them to stay away from your rear end
Hey hey hey, today is the day
Hey guys!
*scatting*

Petrie
It spring, it spring, and me feel like flying
In spring, no one be grumpy or grouch
When me up in the air and sky-ing
Hey, stop! Oh!
You just barely missed the hatchlings, Petrie.
Petrie
Oh, Petrie real sorry.
Cera
They're not born yet, they can't hear you.
Petrie
No listen to her...
Littlefoot
Hey guys! You know what day today is?
Cera
I do!
Hey hey hey, today's the day
When I'm gonna blow that rock away
I'll hit it so hard it'll break in two
You'll be amazed at what I can do
Hey hey hey
Okay, get ready. Grrr!
What'd I tell you?
I moved the rock!
Ducky
We are very very glad
Petrie
Me fly so high
Littlefoot
I'm gonna see my dad
Petrie
It the flying-est
Ducky
Swimming-est
Littlefoot
Happiest
Cera
Springiest
All
Day
Today's the day
Ducky
Today is the day
All
Today's the day
Petrie
Today the day
All
Today's the day!
Ad blocker interference detected!
Wikia is a free-to-use site that makes money from advertising. We have a modified experience for viewers using ad blockers

Wikia is not accessible if you've made further modifications. Remove the custom ad blocker rule(s) and the page will load as expected.