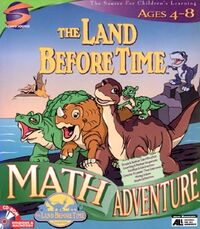 The Land Before Time: Math Adventure is a computer game based on the Land Before Time movie franchise. Aimed at children between the ages of four and eight, the game teaches the concepts of greater than/less than, using five adventures involved in a journey the main characters Littlefoot, Cera, Ducky, Petrie and Spike are embarked on. The rewards for completing each activity include treestars and "dino bucks", which can be used to trade or "pay" in exchange for video clips of scenes from different Land Before Time films.
External links
Ad blocker interference detected!
Wikia is a free-to-use site that makes money from advertising. We have a modified experience for viewers using ad blockers

Wikia is not accessible if you've made further modifications. Remove the custom ad blocker rule(s) and the page will load as expected.