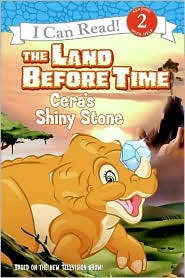 The Land Before Time: Cera's Shiny Stone is a 2008 "I Can Read" book by Catherine Hapka, based on the episode "The Canyon of Shiny Stones", of the Land Before Time television series.
Plot
The story is based on the fourth episode of the Land Before Time TV series 'The Canyon of Shiny Stones' which Cera loses Tria's gem by knocking down the stand in a stream down below and her friends (Littlefoot , Ducky , Ruby , Chomper , Spike and Petrie ) including her, must go to the Mysterious Beyond to find a Canyon of Shiny Stones and get a gem for Tria as a spare.
The two songs in it are:
Oops - Eeps
Good Times, Good Friends
Ad blocker interference detected!
Wikia is a free-to-use site that makes money from advertising. We have a modified experience for viewers using ad blockers

Wikia is not accessible if you've made further modifications. Remove the custom ad blocker rule(s) and the page will load as expected.