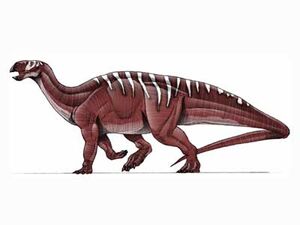 Tenontosaurus ("sinew lizard") is a genus of medium- to large-sized ornithopod dinosaur. The genus is known from the late Aptian to Albian ages of the middle Cretaceous period sediments of western North America, dating between 115 to 108 million years ago.
The genus contains two species, Tenontosaurus tilletti (described by John Ostrom in 1970) and Tenontosaurus dossi (described by Winkler, Murray, and Jacobs in 1997). Many specimens of T. tilletti have been collected from several geological formations throughout western North America. T. dossi is known from only a handful of specimens collected from the Twin Mountains Formation of Parker County, Texas.
In the Land Before Time
A group of Tenontosaurus can be seen in the background of a scene in The Land Before Time II: The Great Valley Adventure.
Ad blocker interference detected!
Wikia is a free-to-use site that makes money from advertising. We have a modified experience for viewers using ad blockers

Wikia is not accessible if you've made further modifications. Remove the custom ad blocker rule(s) and the page will load as expected.