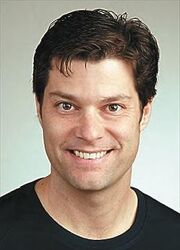 Scott McAfee (born August 24, 1982) is an American voice actor and the one to voice Littlefoot from the The Land Before Time films II-IV. He is the brother of Anndi McAfee, who is the current voice for The Land Before Time character Cera.
Filmography
Television and DVD
Boston Public
Freaks and Geeks
Batman Beyond: The Movie (1999)
Batman Beyond (1999)
Freakazoid! (1995)
Bump in the Night (1995)
Batman (1994)
Lois & Clark: The New Adventures of Superman (1993)
Home Free (1993)
Her Final Fury: Betty Broderick, the Last Chapter (1992)
Hardball (1989)
Jim Henson Presents Mother Goose Stories (1987)
Cinema
Growin' a Beard (2003) (cameo)
Dark Chronicle (2002) (English-language voiceover) (uncredited)
Journey Beneath the Sea (1997)
Virtual Oz (1996)
The Land Before Time IV: Journey Through the Mists (1996)
Toy Story (1995)
The Land Before Time III: The Time of the Great Giving (1995)
The Land Before Time II: The Great Valley Adventure (1994)
Midnight Run (1988)
Awards/Nominations
Young Artist awards:
Nominated; 1994, Best Youth Actor in a Voiceover Role - TV or Movie for: "Batman" (1992)
Nominated, 1994, Best Youth Actor Leading Role in a Television Series for: "Home Free" (1993)[1]
External links
References
Ad blocker interference detected!
Wikia is a free-to-use site that makes money from advertising. We have a modified experience for viewers using ad blockers

Wikia is not accessible if you've made further modifications. Remove the custom ad blocker rule(s) and the page will load as expected.