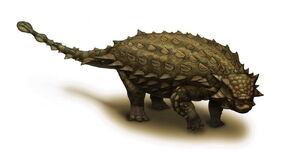 Saichania (Mongolian meaning "beautiful one") is a genus of herbivorous ankylosaurid dinosaur from the Late Cretaceous period of Mongolia and China.
The first fossils of Saichania were found in the early 1970s in Mongolia. In 1977 the type species Saichania chulsanensis was named. The description of this species has been based on limited fossil material; especially the rear of the animal is not well known.
Saichania was over five metres long and weighed over two tonnes. It was more robustly built than other members of the Ankylosauridae. Neck vertebrae, shoulder girdle, ribs and breast bones were fused or firmly connected. Its body was flat and low-slung, standing on four short legs. The forelimbs were very powerful. The head was protected by bulbous armor tiles. It could defend itself against predators like Tarbosaurus with a tail-club. On the torso keeled osteoderms were present. Saichania bit off plants in its desert habitat with a horny beak and processed them in its wide hindgut.
The Land Before Time
A Saichania appeared in The Land Before Time (TV series) episode, The Bright Circle Celebration, during the song My Reality. In an ironic twist, when Daddy Topps says a Rock's a rock, a gray Saichania, who was actually the "rock" that Daddy Topps discussed previously, gets up and walks away.
Ad blocker interference detected!
Wikia is a free-to-use site that makes money from advertising. We have a modified experience for viewers using ad blockers

Wikia is not accessible if you've made further modifications. Remove the custom ad blocker rule(s) and the page will load as expected.