Plateosaurus (probably meaning "broad lizard", often mistranslated as "flat lizard") is a genus of plateosaurid dinosaur that lived during the Late Triassic period, around 214 to 204 million years ago, in what is now Central and Northern Europe. Plateosaurus is a basal (early) sauropodomorph dinosaur, a so-called "prosauropod". As of 2011, two species are recognized: the type species P. engelhardti from the late Norian and Rhaetian, and the slightly earlier P. gracilis from the lower Norian. However, others have been assigned in the past, and there is no broad consensus on the species taxonomy of plateosaurid dinosaurs. Similarly, there are a plethora of synonyms (invalid duplicate names) at the genus level.Discovered in 1834 by Johann Friedrich Engelhardt and described three years later by Hermann von Meyer, Plateosaurus was the fifth named dinosaur genus that is still considered valid. Although it had been described before Richard Owen formally named Dinosauria in 1842, it was not one of the three genera used by Owen to define the group, because at the time, it was poorly known and difficult to identify as a dinosaur. It is now among the dinosaurs best known to science: over 100 skeletons have been found, some of them nearly complete. The abundance of its fossils in Swabia, Germany, has led to the nickname Schwäbischer Lindwurm (Swabian dragon).
The Land Before Time
One was seen at the beginning of The Land Before Time 2:The Great Valley Adventure,eating a cycad's leaf and living in the Great Valley. It and Mussaurus are the only prosauropods in the franchise. Plateosaurus is notable for being the only twofooter longneck in the series. A skeleton of an Plateosaurus also appear in The Land Before Time II: The Great Valley Adventure in the Mysterious Beyond.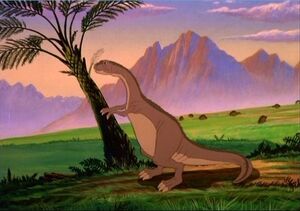 Ad blocker interference detected!
Wikia is a free-to-use site that makes money from advertising. We have a modified experience for viewers using ad blockers

Wikia is not accessible if you've made further modifications. Remove the custom ad blocker rule(s) and the page will load as expected.