Omeisaurus (meaning "Omei lizard") is a genus of sauropod dinosaur from the Middle Jurassic Period (Bathonian-Callovian stage) of what is now China. Its name comes from Mount Emei, where it was discovered in the lower Shaximiao Formation of Sichuan Province.
Like other sauropods, Omeisaurus was herbivorous and large. It measured 20.2 metres (66 ft) long, and weighed 9.8 tonnes.
Discovery
Omeisaurus was first described in 1939. It was named after the sacred mountain Omeishan, which is where the first fossil example of Omeisaurus was found. Most skeletons of Omeisaurus were found in the 1970s and 1980s, during the great "Chinese dinosaur rush". There have been six species of Omeisaurus named so far: O. junghsiensis, O. changshouensis, O. fuxiensis, O. tianfuensis, O. luoquanensis, and O. maoianus. All of these but the last were named after the locations where they were found. O. fuxiensis was the smallest species, measuring around 35 feet (11 m) long. O. tianfuensis had the longest neck of the genus, around 30 feet (9.1 m) long. The only dinosaur with a longer neck was Mamenchisaurus. A club tail fossil discovered in the same bone bed as the Omeisaurus fossils was thought to belong to this genus, but is now believed to belong to a large specimen of Shunosaurus.
Mounted skeletons of Omeisaurus are on display at the Zigong Dinosaur Museum in Zigong, Sichuan Province and at Beipei Museum, near Chongqing, both in China.
The Land Before Time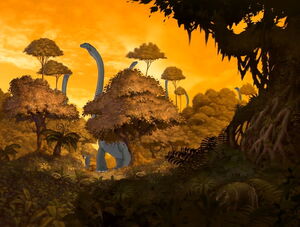 Six Omeisaurus can be seen feeding on the treetops in the opening of The Land Before Time VIII: The Big Freeze.