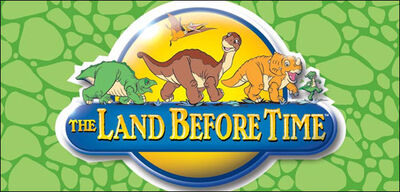 Welcome to The Land Before Time Wiki! A wiki database dedicated to the popular children's cartoon series, The Land Before Time that ANYONE can edit.
Warning: This wiki contains spoilers. Read at your own risk.
All Pages · Wanted Pages · Featured Articles · Featured Images · OC · Fanfiction · Fanon Wiki
Want to help the Wiki?
The Land Before Time V: The Mysterious Island, directed by Charles Grosvenor, is the Young Artist Award-winning fifth installment in the popular Land Before Time movie franchise. Originally released direct-to-video in 1997, it was the first film in the series to be directed by Grosvenor, who has consistently directed the movies ever since.
The plot involves the entire population of the Great Valley leaving the valley after a swarm of locusts devours all of its vegetation. As the herd becomes bitter and argumentative due to famine, Littlefoot and the other main characters set out to find food to keep the herd together. In the process, they become trapped on an island, where they meet an old friend - Chomper, the baby Sharptooth from The Land Before Time II: The Great Valley Adventure.
The Land Before Time V: The Mysterious Island was one of the more popular films with the critics, and has received reasonable ratings. Since its first release, it has been released to video, laserdisc and DVD many more times, and has aired on several TV channels for multiple years.
---
---
Description: Littlefoot, Ducky, Petrie and Spike look at the tree sweet tree (from The Land Before Time XI: Invasion of the Tinysauruses).
---
Recently featured: Land of Mists, Mr. Threehorn, Ducky, Milo, Lydia, & Plower.
---
Latest TLBT movie...
The Land Before Time XIV: Journey of the Brave
The gang sets out on a quest to rescue Littlefoot's father, traveling across strange landscapes and making new friends in the Mysterious Beyond.
External links