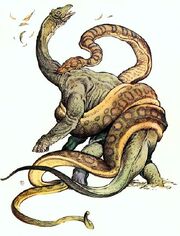 Madtsoia
is an extinct genus of madtsoiid snake. It is known from the Eocene of Argentina (
M. bai
), the Paleocene of Brazil (
M. camposi
), the Late Cretaceous (Campanian) of Spain (
M. laurasiae
), the Late Cretaceous of India (
M. pisdurensis
), and the Late Cretaceous (Campanian-Maastrichtian) of Madagascar and possibly Niger (
M. madagascariensis
).
The Land Before Time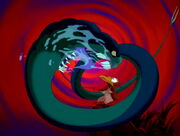 In
The Land Before Time X: The Great Longneck Migration
, a stylistic, imaginary
Madtsoia
attacks Petrie, as he describes "a front that bites" and "a back that stings" in the song '
Adventuring
'. As the latter lyric implies, it is depicted with a thagomizer; which the real creature did not possess.
Ad blocker interference detected!
Wikia is a free-to-use site that makes money from advertising. We have a modified experience for viewers using ad blockers

Wikia is not accessible if you've made further modifications. Remove the custom ad blocker rule(s) and the page will load as expected.