Information in this article is non-canon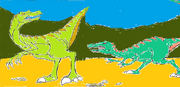 Original character
{{{image}}}
Names Not Given
Gender:
Male and Female
Color:
Male (orange and light green) Female (orange and blue green)
Eye Color:
Male (orange) Female(red)
Species:
Utahraptor
Debut:
The Land Before Time XV: The Friendly Sharptooth Flyer
Creator:
Mongoose Lover
These are two Fast Biters that have marital problems.  The two spot Ptero and decide to have him as dessert to go with the Fast Runner they ate for dinner.   The female whines that the male never does anything and the male promises to get Ptero.  Ptero engages in witty banter, in Sharptooth, with them.   They both try and get him.  In the end, Ptero is able to dodge them and the male accidentally hits the female with his claws instead.  The female angrily comments that the male can never do anything right, prompting the male to wonder aloud why he married her.   Ptero, sometime later, comments that these two need marital counseling.
Ad blocker interference detected!
Wikia is a free-to-use site that makes money from advertising. We have a modified experience for viewers using ad blockers

Wikia is not accessible if you've made further modifications. Remove the custom ad blocker rule(s) and the page will load as expected.