Information in this article is non-canon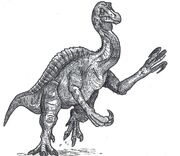 Deino is a Land Before Time fanfic villain from The Land Before Time Wiki/Fanfiction/The Land Before Time XIX: The Time of Choosing .    He is referreed to as the Fanged Flattooth, a rather sinister nickname just like "Sharptooth" for the villain fo the first film.He is a Deinocherius.
Deino sought to rule the world.

Deino is a murderous dinosaur mastermind who has caused the deaths of Littlefoot's Mother and the Old One, among others, in his pursuit of a Bothtooth New World Order
Ad blocker interference detected!
Wikia is a free-to-use site that makes money from advertising. We have a modified experience for viewers using ad blockers

Wikia is not accessible if you've made further modifications. Remove the custom ad blocker rule(s) and the page will load as expected.