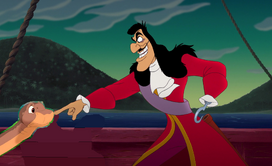 Lyrics
Captain Hook: So this is what I think of you
You're as welcome as a bilge rat in my stew
Now your father belongs to me
Littlefoot: Well, I've never heard a codfish try to sing
Captain Hook: So you've returned, now go away
Captain Hook is at the helm and here to stay
Littlefoot: Now looky here, imagine that
A barnacle in a feather hat
Captain Hook: Oh blast you Littlefoot
You're a pompous popinjay, always getting in my way
Littlefoot: Oh crooked Captain Hook
If only you'd play fair instead of blasting everywhere
Captain Hook: Always tugging at my coat
Littlefoot: You're a greedy billy goat
Captain Hook: You always ruin my fun
Littlefoot: Because you steal from everyone
Captain Hook: Pesky swab
Littlefoot: Scurvy dog
Captain Hook: Oh blast you Littlefoot!

Ad blocker interference detected!
Wikia is a free-to-use site that makes money from advertising. We have a modified experience for viewers using ad blockers

Wikia is not accessible if you've made further modifications. Remove the custom ad blocker rule(s) and the page will load as expected.