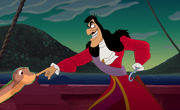 Littlefoot: Dear Littlefoot: Your presence is required at the request of your dad. Kindest personal regards... ...J.A.S. Hook... ...Captain."
Captain Hook: Surprised?
Littlefoot: What are you doing in this cartoon?
Captain Hook: Call it a token of me affection.
Littlefoot: Where's my dad?
Captain Hook: Your father is mine!
Littlefoot: Let him go, Hook! You black-hearted scoundrel!
Captain Hook: Oh, he'll go one by one... off the end of the plank!
Littlefoot: No!
Captain Hook: My dear, no one can save him now!(laughing)

Ad blocker interference detected!
Wikia is a free-to-use site that makes money from advertising. We have a modified experience for viewers using ad blockers

Wikia is not accessible if you've made further modifications. Remove the custom ad blocker rule(s) and the page will load as expected.