Information in this article is non-canon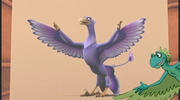 Plot
One Day LittleFoot tells his friends about meeting Buddy and brings Cera, Ducky, Petrie, Spike, Ruby, Chomper Ali, and Guido to the Blue Portal to meet Buddy T-rex and his Family to have a picnic on the Big Pond.
Quotes
[Entering The Portal]
Ail: Where Are We Going LittleFoot?...
Littlefoot: You'll See Its A Surprise.
Chomper: *laughs* I Love Surprises!!!.
Cera: Yeah it better be a big surprise.
Littlefoot: NOW! We Here!.
Ducky: Wow wh...what is it?
Ducky: Ruby do you know what it is?
Ruby: I never seen, what I've never seen before?
Guido: Well it sure has beautiful colors, I don't mean that coming from my coming from my mouth.
Littlefoot: Well come on guys, lets go.
Petrie: GO!?
Cera: Go where!? These swirling colors are just sky color stones, you can't pass through it!
Littlefoot: Yes we can this leads right towards a whole new world!
Chomper: A world beyond the Great Valley?
Littlefoot: Yep...
Ali: Even beyond the Mysterious Beyond!?
Littlefoot: Yep!
Cera: Hmph, I bet!
Littlefoot: Now come on and lets go!
Petrie: urk...Oh no me not going through there! What if there creature meaner than a big Sharptooth.
Cera: Well we won't know if we don't go through it...will we?
Petrie: Um...
Ducky: Petrie don't you worry everything will be all right it will, it will.
Buddy: Hello LittleFoot! Its So Nice To See You Again!.
Pterie: AHHHH!!!!!!!! A SHHHH...SHARPTOOTH!!!!!!
[Everyone panics except for Chomper]
LittleFoot: Guys stop come back! He's not mean.
[The gang comeout from hiding cautiously]
All: Oh...
Cera: Hah! Yeah right once we turn our backs he'll probably eat us.
Chomper: Don't worry guys, Littlefoot is telling the truth.
[Petrie nervously shows head out from hiding over Spike)
Petrie: How you so sure about that?
[Chomper paused for a moment and then answered the panicked flyer's question]
Chomper: He hasn't eaten us yet?
Petrie: *gulp* Oh uh r-right...
Littlefoot: Guys I'd like you to meet Buddy, he's comes from this world.
Buddy: It's nice to meet you all!
Guido: Oh... so You're A Friendly Sharptooth...
LittleFoot: Buddy these are my friends this Is Cera, Ducky, Petrie, Spike, Ali, Guido, Chomper And Ruby.
Buddy: It's nice to see some new faces, speaking of which I'd like you to meet my brother and sisters!
Petrie: *gulp* muh...muh...More Sharpteeth!? Oh me just hope their just as friendly.
Buddy: Don't worry Petrie I think you're gonna love my siblings.
?????: Buddy where are you?
Buddy: I'm over here Tiny!
Tiny: There you are!
?????: Yeah! We were just about to play a game of Hide in Seek *gasp*
Tiny: Buddy...who are they?
Buddy: Guys this Is Shiney, Tiny and Don.
[Cera, Ducky, Petrie, Spike, Ali, Guido, Chomper And Ruby In Unison] HI!
[Shiney Tiny And Don In Unison] HI!!!!!!!!! TOO YOU TOO!
Petrie: Buddy's family...are Flyers!
Buddy: See I told you'd like'em.
Chomper: Wow it's nice to meet another Sharptooth at my own age for a change!
Buddy: Really, how come?
Chomper: Well where we all come from all the Sharpteeth are mean and vicious and don't take kindly to others...that includes other sharpteeth.
Petrie: So what you guys do around here?
Don: Well we play lots of fun games like "Dino Ball".
[Both Guido and Petrie] That's sounds fun!
Ducky: It's nice to meet new friendly faces especially yours Tiny.
Tiny: It's nice to meet you too, you have nice friends back there.
Cera: Yeah and your family is nice too even if your brother is a Sharptooth.
Tiny: A Sharptooth? Oh that's right Buddy told us about that where you guys come from you call dinosaurs by their appearances and features.
[Ducky stares in confusion]
Ali: We Have The Same Attitude [Ali Tells Shiney]
Shiney: Well... We... Do... I Think...
Mrs.Pteranadon: ACCK Time To Go Kids!
Buddy: Come on guys, Lets Go off to see the Dinosaur Train!
[Littlefoot's friends look at each other confused]
All: Dinosaur Train!!?
Buddy: Yeah it is this very neat train where all the dinosaurs from different time periods on to visit different time periods or continents.
Don: Yeah we've been on it as many times than the stuff in my collection back at home. Well at least I think...
[Prehistoric Pals are amazed at what they are told and seem excited to see this Dinosaur Train, much to Cera's dismay]
Cera: A train? Is that some kind of new dinosaur we've never heard before?
Shiny: No it is this big long machine that several carts for one of each dinosaur to ride.
Cera: Hmph, I don't know what a machine or even a train is nor have I seen one, but dinosaurs riding on it going back in times long ago? Heh, that sounds pretty hard to believe.
[As Cera scoffs in disbelief on such a contraption, this encourages the gang to trust, Buddy's story and see what this train is all about, Ducky is the first one to confess]
Ducky: Well...I would like to this Dinosaur Train oh yes, yes, yes!
Chomper: Yeah and me too, if there is place all dinosaurs even carnivores like me can get along at I'll surely check out!
Ruby: It sure would seem like, another good adventure I like to be apart of.
Littlefoot: Yeah and it sounds like a lot fun, right Petrie?
Petrie: Hmm? Well...me suppose...uhh what do you think Guido?
Guido: Well it does like a hoot, but I just hope it doesn't hurt.
Mrs. Pteranodon: Relax, Guido the dinosaur train is perfectly safe and everyone behaves at their top best, you'll love it.
[These words of wisdom make Guido feel safe in comfort; knowing that what Mrs. Pteranodon was saying is of the truth]
Tiny: Cera, what about you won't you join us?
[Cera looks with a stern face to see everyone elses faces, almost as if she could read sadness written on them. She couldn't resist the guilt and finally a face of anger turns into a face of happiness)
Cera: Oh...alright
[Everybody cheers in delight]
Mrs. Pteranodon: Wonderful, now everyone is ready to come along on the Dinosaur Train!
Buddy: Yeah and don't worry guys, everyone is welcome on the train what matter species or even what world you come from.
Don: Yeah and any friend of our is welcome to on the Dinosaur Train anytime!
Mrs. Pteranodon: Yes, but we better hurry the train will pulling in any minute.
[So this oddly shaped herd of dinosaurs disband to the Dinosaur Train and soon come across the station just in time to see the train at its best]
[Littlefoot, Cera, Ducky, Petrie, Spike, Ali, Chomper, Ruby and Guido seeing the Dinosaur Train]
Littlefoot and friends: WOW!!!!!!.
Mrs.Pteranadon: Well... Here We Are Kids! The Dinosaur Train.
Ali: Oooo...
Ruby: Ahh...
Mrs. Pteranodon: Well what to do you kids think?
Littlefoot: It's amazing!
Mrs. Pteranodon: Oh then you kids are gonna love what happens once we get on.
Petrie: AH!
Tiny: Whats wrong Petrie?
[Petrie shaking nervously points up to the train and sees a green dinosaur, Giganotosaurus a theropod dinosaur so gigantic it topples over T-Rex in size, but in the world of Land Before Time it well-known as a Sharptooth]
Petrie: U-u-u-u-u-p-ppp Th-Th-Th-There, there is a Sharptooth on the train!
Tiny: Oh her? That is Laura Giganotosaurus she...don't worry she is very nice and wouldn't harm anyone on the train and has many friends who are herbivores.
[Littlefoot is shocked in amazement]
Littlefoot: Really?
Buddy: Yeah! All the dinosaurs on the Dinosaur Train are very friendly with one another and don't cause anyone much trouble.
[Cera is put into disbelief once again, skeptical about this]
Cera: Hmph, yeah I'm so sure of that!
[Littlefoot then bumps Cera in the arm to single when to know her place]
Littlefoot: Cera!
Cera: What?
Chomper: This is pretty cool, a place where Sharpteeth and Leafeaters can be friends with one another.
[Buddy soon investigates Chomper and looking curiosity]
Chomper: Uh, Buddy...what are you doing?
Buddy: I couldn't help about look at you're features and you look somewhat like a T-Rex, but I'm not too sure of it. Do you think I could take one more look?
[Though oddly confused, Chomper allows Buddy to examine him once more time]
Chomper: By all means!
[Buddy takes one more look at Chomper's features and has come to a conclusion]
Buddy: Let me see Chomper well he's A T-Rex all right, but why does Chomper Has Three Fingers?.
Littlefoot: Well when He's A Baby He had two fingers, but when he grew to a little older he grew Spikes and a third finger.
Buddy: Oh... I see spikes On his back too.
Mr. Conductor: ALLL ABORD!!!!
Buddy: Well We Are Going...[LittleFoot Gives Him A Little Tap On His Back]
LittleFoot: Buddy! [LittleFoot Whispers To Buddy] You Forgetting That it is Suppose To Be A Surprise...
Mr. Conductor: Hello Pteranadon Famliy!
[Buddy, Shiney, Tiny And Don In Unison] HELLO MR.CONDUCTOR!
Mrs.Pteranadon: Hello
Mr.Conductor: Well Buddy who might be your new friends?.
Buddy: Oh This is Littlefoot
Littlefoot: Hello sir.
Buddy: And his friends Cera, Ducky, Petrie, Spike, Ali, Ruby, Chomper and Guido .
Mr.Conductor: Well hello to you All!.
Mr. Conductor: I reckon from your distinct features and what not that you and you're lady friend there are Apatosaurus I'm a right?
Littlefoot: Uh, yeah, but how did you know?
Buddy: Mr. Conductor knows about all kinds of dinosaurs. He's seen every last species that's come aboard on the dinosaur train.
Littlefoot: Really? gee...ur well if you seen all the species of dinosaurs on this train do you know what my friends and their kind are?
Mr. Conductor: Hmmm...you know that's a pretty good question they're Littlefoot. Now let me think.
Mr. Conductor: Looking at you're two little friends there they are a Saurolophus and a Pteranodon and your others friends are an Oviraptor, Tyrannosaurus, Triceratops, Stegosaurus and a Microraptor I assume.
[Littlefoot's friends are left confused]
Littlefoot's friends: HUH!?
Cera: What did he just call us?
Ruby: I've heard never a dinosaur with names that I've never heard before?
[The whole train laughs]
Petrie: What so funny?
Mr. Conductor: *laughs* Well Petrie in our world we call all prehistoric creatures by their scientific names.
Petrie: Scien-tif-ic? What that?
Mr. Conductor: I'm glad you asked that. Its the study based on science or knowledge; Scientific names are proper terms in naming a species, its pretty much like you're own personal name. For example you're a Pteranodon while your friend Ducky there is a Saurolophus.
Petrie: Oh me think I get!
Guido: Uh Mr. Conductor sir what kind of dinosaur am I? Because I just want to know since I don't have my own kind and all, not like there isn't any dinosaur that looks like me out their or nothing, but I want to know and well...
Mr. Conductor: Well Guido from the looks of it you resemble quite a bit of a Microraptor.
Littlefoot & friends: A Microraptor!?
Mr. Conductor: Yep, it is a matter of fact that one was just on the Dinosaur Train just yesterday.
Guido: Well what do they look like anyway?
Mr. Conductor: Well they a look little something like this...
[The Conductor turns on the projector which shows a Microraptor]
Littlefoot & friends: *gasp* Ooooo
Petrie: Ooooo....pretty
Littlefoot: It kinda reminds me of our friend Avie.
Ducky: Hmmm *gasp* Guido, this must your kind yep,yep,yep!
Guido: What!? Oh no that's couldn't be my kind I mean they don't even have the same colors as me and we don't look a like.
Ducky: They have to be, look at their bodies and tails they lookeded similar to yours.
Cera: Ducky is right look at they're mouths they almost look like a beak just like yours.
Guido: Well yeah they do kinda.
Ali: Yeah and they have those fluffy looking things on they're arms and tail just like you do.
Tiny: Plus they eat insects just like you.
[Littlefoot and gang turn towards Tiny]
Littlefoot & friends: They do!?
Buddy: Yeah! Microraptors usually eat insects all the time.
Ducky: Well that explains why he couldn't eated any of the food we ate.
Guido: Yeah, Yeah your right!!!
Don: Then that settles it you're definitely a Microraptor!
All: YEAH, Wahoo!!!
[A mesmorized Guido looks at the Microraptor on the projector]
Guido: I finally found my own kind...
[Dinosaur Trains Honks]
Guido: AHHHHH! What was that?
Shiney: Oh that's just the train, it does that from time to time.
Mr. Conductor: So where are you off to...
Buddy: We Are Going To A Special Place on Time.
[Buddy Points To Mr.Conductor's Clock]
Mr.Conductor: Speaking Of time TIME TUNNLE!!! TIME TUNNLE!!!!! HOLD ON TO YOUR HATS AND TALES!!! [guido holds his tale and the dinosaur train enters the time tunnle]
LittleFoot:Ahhh...
Ali: Ooooo...
[Ruby, Ducky, Petrie, Chomper And Guido in unison] Ahh...Oooo...
Cera: Woooooww!!!
Mr.Conductor: Here We Are! Big Pond Station.
LittleFoot: Here We Are The Surprise Place!
Cera: I've never seen something this beautiful since the day of the tree sweets!
Ruby: Water!
Chomper: What Would We Eat?
Ms.Pteranadon: We Eat Fish! [Ms.Pteranadon gives chomper, petrie, buddy, shiney, tiny and don fishes]
LittleFoot: Me, Ali, Cera, Spike, Ducky, and Ruby. We don't eat meat we eat plants Ruby eats berries, but she also loves eating shells.
Buddy: That's right, I learned that Oviraptors ate things such as shells and plants. It makes perfect sense!
[Ms.Pteranadon gives Guido worms and Ruby berries and shells]
Mr.Pteranadon: Well LittleFoot And Ali Heres your plants [littlfoot and ali eating the plants]
LittleFoot: Well Bye! All! [Others saying goodbye Everybody Goes to the portal and returning to the great valley]
Triva
​Buddy and friends explains about the Gang's Dinosaur Species.
LittleFoot  Says About When Chomper Was a Baby.
Ad blocker interference detected!
Wikia is a free-to-use site that makes money from advertising. We have a modified experience for viewers using ad blockers

Wikia is not accessible if you've made further modifications. Remove the custom ad blocker rule(s) and the page will load as expected.