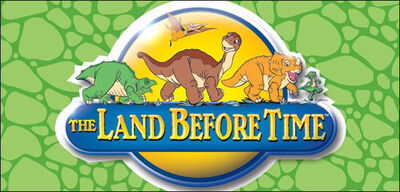 Welcome to Land Before Time Wiki! A wiki database dedicated to the popular and longest-running dinosaur children's cartoon series, The Land Before Time that ANYONE can edit.
Our wiki was founded in 2006. With 1,612 articles, 11,519 files, and 144,588 total edits, Land Before Time Wiki is the best dedicated source to The Land Before Time films, TV series, characters, songs, species, and more. We are looking for new and experienced FANDOM editors alike, and we would like to see you contribute!
Help us expand our 1,612 articles today!
All Pages · Wanted Pages · Featured Articles · Featured Images · OC · Fanfiction · Fanon Wiki
Want to help the Wiki?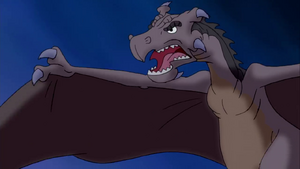 The Nightmare Dragon is a terrifying wyvern that appears in a dream sequence in "The Spooky Nighttime Adventure". He is an imaginary but scary Sharptooth Flyer. It chases Cera and nearly kills her with a breath of fire. Cera manages to defeat it by declaring that she is not a scaredy-egg, and it flies away. However, her nightmare does not end, instead she is terrorized by her own friends...
It was not seen again, but its roars sounds like those of Zilla from the 1998 Godzilla film.
---
---
Description: A terrifying Longneck Monster (from "The Lone Dinosaur Returns").
---
Recently featured: Nightmare Dragon chasing Cera, Sharptooth ripping open Littlefoot's Mother, Plated Sharptooth slashing Papa Sharptooth, Plated Sharptooth knocking out Mama Sharptooth.
---
Latest TLBT movie...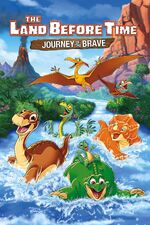 The Land Before Time XIV: Journey of the Brave
The gang sets out on a quest to rescue Littlefoot's father, traveling across strange landscapes and making new friends in the Mysterious Beyond.
Who is the scariest character in the Land Before Time franchise?
External links