Giganotosaurus (pronounced /ˌdʒaɪɡəˌnoʊtəˈsɔrəs/ jy-gə-noh-tə-sor-əs)[[1] is a genus of carcharodontosaurid dinosaur that lived around 97 million years ago during the early Cenomanian stage of the Late Cretaceous Period.[2] It included some of the largest known terrestrial carnivores, slightly larger than the largest Tyrannosaurus, but smaller than the largest Spinosaurus. Its fossils have been found in Argentina.
The name means "giant southern lizard", derived from the Ancient Greek gigas/γίγας meaning "giant", notos/νότος meaning "south wind" and -saurus/-σαύρος meaning "lizard".[3]
Discovery and species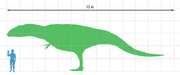 Giganotosaurus carolinii was named for Ruben Carolini, an amateur fossil hunter who, in 1993, discovered the fossils in deposits of Patagonia (southern Argentina) in what is now considered the Candeleros Formation.[2] The initial description was published by Rodolfo Coria and Leonardo Salgado in the journal Nature in 1995.[4]
The holotype specimen's (MUCPv-Ch1) skeleton was about 70% complete and included the skull, pelvis, leg bones and most of the backbone. Various estimates find that it measured somewhere between 12.2 and 13 m (40 and 43 ft) in length, and between 6.5 and 13.3 tons in weight.[5][6][7] A second, more fragmentary, specimen (MUCPv-95) has also been recovered. It is only known from a portion of the left dentary which is 8% larger than the equivalent bone from the holotype. This largest Giganotosaurus specimen is estimated to represent an individual with a skull length of 195 cm (6.40 ft), compared to the holotype's estimated at 1.80 m (5.9 ft) skull, making it likely that Giganotosaurus had the largest skull of any known theropod.[8] Giganotosaurus surpassed Tyrannosaurus in mass by at least half a ton (the upper size estimate for T. rex is 9.1 t).[7]
Description
Giganotosaurus carolinii was slightly larger than Tyrannosaurus rex, but had a brain only about half as big as those of tyrannosaurids.[9] The teeth of Tyrannosaurus were longer and wider, and more variable in size. The teeth of Giganotosaurus were shorter, less variable and narrower than those of Tyrannosaurus, and were more adapted for slicing flesh.[10] A well-developed olfactory region means that it probably had a good sense of smell. Its skull, although large, had a slender build.
Paleobiology
Titantosaur fossils have been recovered near the remains of Giganotosaurus, leading to speculation that these carnivores may have preyed on the giant herbivores. Fossils of related carcharodontosaurids grouped closely together may indicate pack hunting, a behavior that could possibly extend to Giganotosaurus itself.
Blanco and Mazzetta (2001) estimated that Giganotosaurus might have been capable of running at speeds up to 14 metres per second (50 km/h; 31 mph).[11]
Classification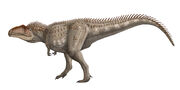 Giganotosaurus, along with relatives like Tyrannotitan, Mapusaurus and Carcharodontosaurus, are members of the carnosaur family Carcharodontosauridae. Both Giganotosaurus and Mapusaurus have been placed in their own subfamily Giganotosaurinae by Coria and Currie in 2006 as more carcharodontosaurid dinosaurs are found and described, allowing interrelationships to be calculated.[5]
Giganotosaurus in The Land Before Time
Main Article: Plated Sharptooth
Giganotosaurus is a powerful type of Sharptooth that has only appeared in The Land Before Time V: The Mysterious Island. It is the main Sharptooth antagonist in the film, though it isn't introduced until well into the story.
In The Land Before Time, the Giganotosaurus somewhat resembles a Tyrannosaurus and is about the same size, but is lime green in color and has "plates" along its back and has three-fingered hands. Other aspects that differ a Giganotosaurus from a Tyrannosaurus in The Land Before Time are its extra white teeth and claws, compared to the teeth and claws of a Tyrannosaurus, which, mostly, if not always, aren't as white. Giganotosaurus also has small ridges over its eyes and the pupils of its eyes are slits instead of circles.
As to how the Giganotosaurus seen in the movie got onto "The Mysterious Island" is unknown. An idea is that it crossed the land bridge the same way as Littlefoot and his friends did. Another possibility is that it was a natural resident.
It should be notable that it was depicted two years after its discovery, so this could be the dinosaur's first appearance on a film.
Unlike most Sharpteeth in the sequels, this Giganotosaurus is shown to be far more menacing and dangerous. While not completely up to the level of the original Sharptooth, he still shows a great amount of determination to get at and eat the children, even though they would be of little food to him. This shows when he jumps a small gorge even after the log bridging the two cliffs had fallen and later when he fights two other Sharpteeth. He also has the distinction of being the only character in the franchise to draw blood when he cuts the snout of Chomper's Father and slashes the leg of Chomper's Mother with his toe claws (the sequence of the original Sharptooth chewing apart Littlefoot's Mother's back doesn't count since it was shown as a shadow, though it was originally going to be shown in full).
Trivia
It and Acrocanthosaurus are, as of 2017, the only carcharodontosaurids to appear in the entire franchise.
Gallery
References
External links
Ad blocker interference detected!
Wikia is a free-to-use site that makes money from advertising. We have a modified experience for viewers using ad blockers

Wikia is not accessible if you've made further modifications. Remove the custom ad blocker rule(s) and the page will load as expected.