Germanodactylus ("German finger") is a genus of pterosaur from the Late Jurassic of Germany. It was long thought to be a species of Pterodactylus, however it is now known to be its own species. It is known for its head crest, as it was one of the first pterosaurs that had one.
In The Land Before Time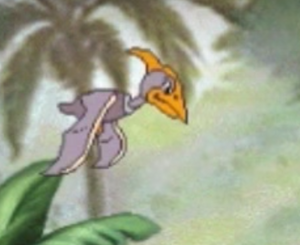 Germanodactylus appears as an enemy in The Land Before Time Math Adventure. In the game it flies back and forth attempting to attack a nest of eggs. Ducky and Cera can shoot a certain number of rocks at it to take it out.