Estemmenosuchus (meaning "crowned crocodile" in Greek) is a genus of large, early omnivorous therapsid. It lived during the middle part of the Middle Permian around 267 million years ago. The two species, E. uralensis and E. mirabilis, are characterized by distinctive horn-like structures, which were probably used for intra-specific display. Both species of Estemmenosuchus are from the Perm (or Cis-Urals) region of Russia. Two other estemmenosuchids, Anoplosuchus and Zopherosuchus, are now considered females of the species E. uralensis. There were many complete and incomplete skeletons found together.
In the Land Before Time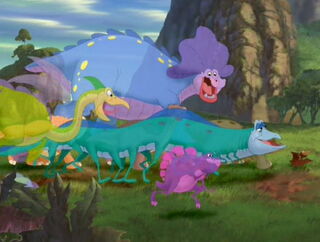 A dark blue Estemmenosuchus appears in The Land Before Time IX: Journey to Big Water, during the song 'Imaginary Friend'.
Ad blocker interference detected!
Wikia is a free-to-use site that makes money from advertising. We have a modified experience for viewers using ad blockers

Wikia is not accessible if you've made further modifications. Remove the custom ad blocker rule(s) and the page will load as expected.