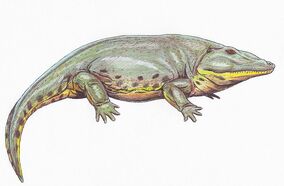 Eryops
( /ˈɛəri.ɒps/) meaning "drawn-out face" because most of its skull was in front of its eyes (Greek ερυειν, eryein = drawn-out + ωψ, ops = face) is a genus of extinct, semi-aquatic temnospondyl amphibian found primarily in the Lower Permian-aged Admiral Formation (about 295 million years ago) of Archer County, Texas, but fossils are also found in New Mexico and parts of the eastern United States. Eryops also occurs in older Pennsylvanian strata of the Conemaugh Group in West Virginia. Eryops averaged a little over 1.5-2.0 meters (5–6 ft) long, making it one of the largest land animals of its time. It weighed about 90 kilograms (200 lb). It probably had few predators, although it would have likely been preyed upon by
Dimetrodon
, which was larger and was the apex predator at the time. Several complete skeletons of Eryops have been found in the Lower Permian, but skull bones and teeth are the most common fossils.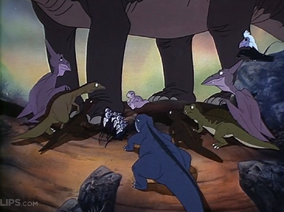 Eryops in The Land Before Time
It only appeared in the first movie as a huge, blue lizard-like creature witnessing Littlefoot's birth. In real life it lived before the dinosaurs because it lived in the Permian period with Dimetrodon and other synapsids.
Ad blocker interference detected!
Wikia is a free-to-use site that makes money from advertising. We have a modified experience for viewers using ad blockers

Wikia is not accessible if you've made further modifications. Remove the custom ad blocker rule(s) and the page will load as expected.