Coelophysis
Talk

0
858pages on
this wiki
Coelophysis ( /ˌsɛlɵˈfaɪsɨs/ or /ˌsiːlɵˈfaɪsɨs/), meaning "hollow form" in reference to its hollow bones (Greek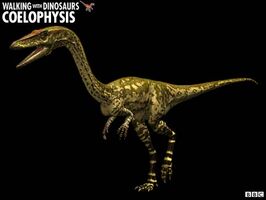 κοιλος/koilos meaning 'hollow' and φυσις/physis meaning 'form'), is one of the earliest known genera of dinosaur. It was a small, carnivorous biped that lived during the Late Triassic(Norian stage) of the southwestern United States, with scattered material representing similar animals to Coelophysis found worldwide in some Late Triassic and Early Jurassic formations.The type species, C. bauri, was described by Edward Drinker Cope in 1889. The name Rioarribasaurus is synonymous with Coelophysis. Another dinosaur, Megapnosaurus, is also often considered synonymous with Coelophysis.
The Land Before Time
Edit
Among the many animals that watch Littlefoot's birth is a small brown dinosaur resembling a Coelophysis or Ornitholestes. A few adult ones are seen fleeing in the
Great Earthshake
.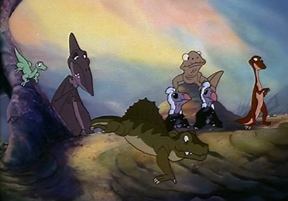 Because they are seen among Leafeaters in the first film, it is possible that Coelophysis are friendly with them, presumably feeding only on insects, fish and worms.