This article is in desperate need of a cleanup to remove false and unnecessary information, and articles with grammar and spelling errors.
Get to it, or Plates will eat you!
This page (or section) is ridden with issues. Improvements would be highly appreciated.
Additional information: bad grammar, formatting, disambiguation message
Note, this article deals with Big Water itself, not the song.  For the song, go to 
Big Water (song)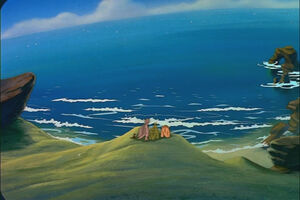 "Big Water" is a Land Before Time term for the ocean. It is the place where Mo and Elsie and some swimming sharpteeth live. The water is salty. The island where the gang encountered Chomper in the 5th movie which is surrounded by this. It is also near the Big Water, as of looking for Littlefoot and his friends that the Great Valley adults had found a spot with plenty of fresh water and green food for the herd to stay till the Great Valley regrew and they were able to return.
The ocean once again returned in the 9th movie when they helped Mo to return to the Big Water, though it seems to be not the same place as part of the 5th movie that took place.
Appearance
The Big Water appeared in the 5th movie of the Land Before Time series called 'The Mysterious Island' where they meet and encountered Chomper, a Sharptooth from the second film, 'The Great Egg Adventure' at a mysterious island which is surrounded by water. It was near the ocean where the adults of the Great Valley who are looking for Littlefoot and his friends (Cera, Petrie, Ducky, and Spike) had found a good spot with plenty of fresh water and green foods for the herds to stay until the Great Valley can grow more green food and they finally return to the valley (meaning the Great Valley families).
The Big Water returned once again in the ninth film, "Journey to Big Water", where Littlefoot decided to help Mo return to the Big Water after the rain had flushed down on the Great Valley. Mo stated that he will return in a TV episode of the Land Before Time series called "The Missing Fast Water Adventure" where he helped Littlefoot and his friends remove rocks after two earthshakes had happened in it as he wanted to return back to the ocean and he did it.